On a day like today, I defer to Kevin Costner's famous line in one of the all-time great baseball and all-American movies.
"Is this heaven?" "No, it's Iowa."
And today, according to US News & World Report, it's also the #1 state in the United States. The ranking survey, which is a multi-level, metric-based system and weighs heavily on the areas of education, infrastructure and healthcare, gives excellent exposure to the great life found in the heart of flyover country.
We're proud Iowans. So naturally, we want to shout it to the east, south, west and north (congrats to our Nordic friends in Minnesota coming in at #2 on the list) so everyone knows we are on the top. The reigning champion. The envy of all other states. But we are also known to be modest folk, us Iowans, and we like to let our stories and stats speak for themselves as to what makes our state so great.
Did you know that Iowa….
Is #1 in hog production, and we have more pigs here than people!
By the way, we're also #1 in corn, soybean AND egg production. We're second in red meat production. Thank an Iowa farmer.
Has the highest graduation rate at in the nation at 91.3%
We're not just farmland, Iowa is actually over 60% urban
We're the birthplace of the first electronic digital computer, the
Atanasoff–Berry Computer (created at Iowa State University in 1930!)
Speaking of Iowa State University, it is the oldest land-grant university in the United States. (What does that mean? Read more here!)
Quaker Oats, in Cedar Rapids, is the largest cereal company in the world.
Iowa is the only state whose east and west borders are 100% formed by water. Missouri and Mississippi rivers
Iowa has more golf courses per capita than any other state in the U.S.
…And the list could go on and on.
As our first female governor, Kim Reynolds, so eloquently says, and did so again on CBS This Morning, "Iowa truly is a place where if you work hard, dream big, anything is possible." At CornerPost, we share the same feelings. Heck, we've traveled many a backroad in this state sharing stories and perspectives of those opportunities for our clients, but we also have our own stories and reasons for loving the Hawkeye State.
Flatter us while some of our CornerPost team members share their heartwarming lifestyle, business and family reasons why we chose Iowa.
---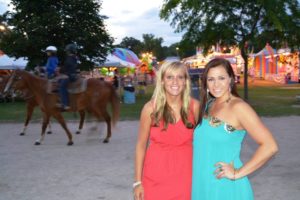 Afton Holt, Owner
My appreciation for the state of Iowa started at a young age. My grandmother always excited us with history of the state, from the stories of Kate Shelley to memorizing the symbols of the state long before any third-grade project required it (to this day I can spot a goldfinch or Iowa wild rose faster than a hawk to a field mouse). But it wasn't just knowing about our state that allowed me to fall in love with it and generate pride for my Iowa roots. Now looking back from a wider perspective, I believe a lot of it had to do with a great childhood. It was the education I received that was second-to-none and the opportunities that came from that in a place where anything seemed possible and talents were encouraged. County fairs, summers spent outdoors navigating Iowa's rivers, and the lights of a combine working through the night in the fall are only a few of the moments that grow my love for this state.
While I'm a Cyclone through and through, all of our Iowa colleges and universities (Hawkeyes included) are the best of the best and prepare students for all levels of workforce needs. It seemed like an easy choice to choose Iowa State to pursue an agricultural degree given its close proximity to my hometown of Ellsworth, Iowa, but there were other choices. I now find myself extremely lucky for having a postsecondary education from a nationally recognized agricultural university which includes a 99% job placement rate.
When I decided to begin CornerPost five years ago, I could have chosen anywhere. I could have taken that milestone in my life as a chance to start in any one of the other 49 states, but I chose Iowa. I was highly confident that my business could flourish here, that the notable Iowa work ethic would be found in the team I'd build, and that I would have a  local and state government that would support business owners like me who had bold dreams of making an impact. Five years later I am thankful that has all been true, and the future opportunities here are limitless.

Chelsey Westerman, Graphic/Web Designer
I love Iowa because of how beautiful it is. Its simplicity and its land make it beautiful. My favorites are the lakes and wide open cornfields. This is especially true in the summer when everything is green and alive and just in your face about it. Iowa's weather makes it beautiful, even the harsh winters. That's what makes you appreciate the good days even more. Iowa's travel opportunities make it great too! You're right in the middle of the country so going to one coast or the other is an easier possibility! I think Iowa's people make it the most beautiful. I love the people. There's always that small town feeling anywhere you go in Iowa. "Iowa Nice" is a real thing! Most importantly, Iowa is home for me because it's where I come from. It's where my family is. It's where my friends are. It's who I am.
Oh, and one last thing; go hawks!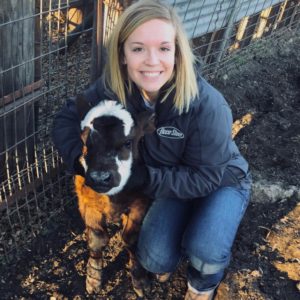 Andee Hammen, Content Manager
Where you grow up has a lot to do with who you become later in life. I was lucky enough to grow up in small-town, rural Iowa and delighted to say I've established myself in the same area. I could have chosen to leave and go to college out of state after high school. Likewise, I could have left after graduating from Iowa State University, but I didn't. Reason being? Iowa is where my roots are. Iowa is where my family is. And Iowa is where I'll have all the opportunity in the world to continue and grow my family's grain and livestock farm. Iowa is home to me, and I don't see any reason to leave. Sure, there are some days I think to myself that living outside of Iowa might be fun, but those thoughts only stay with me for a few hours. This state, these small towns and Iowa's culture have shaped me into who I am today. I realize now that I have all that I need right in my backyard (basically of course). I am so proud of my strong Iowa roots and don't see that feeling changing anytime soon.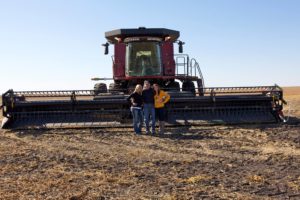 Jayna Mickelson, Account Manager
Hearing Iowa was named the 'Best State' was music to my ears. I recently moved back to Iowa, and even though I was only in South Dakota prior, it was strange how much I missed this state! Sounds crazy right? I was ONE state away. While I love all the states that make up the Midwest, there is something about Iowa that gives me butterflies. As I am writing this, I also never imagined it would be difficult for me to describe exactly why I feel this is so accurate. I obviously have a passion for agriculture, and that is very predominant in Iowa. Stemming from that are the smaller farming communities that support all our local farmers. I love driving through small rural towns, seeing what their history is, and what they have to offer. I think that is what I love the most; the small towns scattered all over the state that are bursting with pride and welcoming people to boot. I have had opportunities to travel to many of these towns over the course of my life, and it really is inspiring. From the historic downtowns to local celebratory days, there is a lot more to offer in the state of Iowa than some might assume. I am also forever grateful for the ever real, "Iowa nice" communities that span from the Mississippi River to the Missouri River, and while I know every state has something special, I do count my blessings that this state is where I call home.
---
We may have been born here, but we didn't have to stay. We may have been under the thumb of our parents as to where our K-12 education was to be, but our professional and postsecondary education was our own choice. We could have decided to be "home" meant we weren't taking advantage of all the opportunities provided in this world, but we instead decided to thrive off of the boundless opportunities available to us and build them to much more for others. The truth is, we could live in any of the great states across the land of the free, but we chose Iowa as our home.
And in true 'Iowa Nice' fashion, we welcome you to choose Iowa as well.
Some facts derived from:
https://www.50states.com/facts/iowa.htm
https://www.agclassroom.org/teacher/stats/iowa.pdf
http://www.iowaagriculture.gov/quickfacts.asp
http://www.onlyinyourstate.com/iowa/14-fun-facts-about-ia/
https://www.educateiowa.gov/article/2017/04/11/iowa-s-high-school-graduation-rate-reaches-new-high-913